Shaker's Hockey Team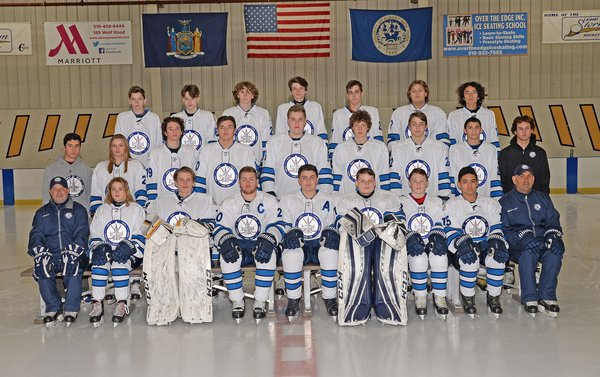 At Shaker High School, ice hockey is a winter sport that has always lacked the amount of kids needed for a full hockey team. Even though hockey is a very popular sport in other parts of the country. It is mainly Basketball that has been the dominant Winer sport in terms of high school participation in our area. It has been around for years that Shaker has offered Ice Hockey, and although Shaker has never had enough kids to make its own team, shaker has combined with other local schools in the capital district. Not only does the area struggle to make a men's hockey team, but there are not enough girls for a girls team either. Because of that, hockey has become a co-ed sport and over the years there have been some girls on the team. The team being co-ed makes it fair for everyone who truthfully loves Hockey, so that they may have a chance to play it for their school. 
The team name is the Capital District Jets, and it is combined with players from five different schools. Those schools are Shaker, South Colonie, Columbia, Averill Park, and Tamarack. The good thing about having a combined team with all the schools is that many of the kids on this team are familiar with one another from playing travel hockey, so they're comfortable playing with each other and have experience. Since none of the schools that have players participating on the team have their own ice rinks, the team plays at the Albany county hockey facility, which is located right near the Albany Airport. The Jets play in a 12 team league, along with other schools such as Bethlehem, Cba, Albany Academy, and many other local schools. 
 Although all other sports offer many levels of competition within their sports such as Varsity, Jv, and some even modified, the Jets only have a Varsity team. This is also due to the fact that there are not enough kids needed to form various levels of competition for the sport. With their being only one team available, this makes it much more competitive. All the kids trying out know that there is only a limited amount of spots available on the team. Despite the fact that the team is filled with players from five different schools, they have continued to struggle. They went nearly two years without winning a game, before winning a game over the Lasalle Cadets in December. They have about a 20 game season, and possibly more if they can find a way to make a run during sectionals. The team still has many people traveling to all their games from the local area, as kids from each school go to see their classmates play. Overall, making a combined, and co-ed team has really benefited the hockey players around here, as they still have a chance to be able to play for a team as a school sport.