Authentic Fantasy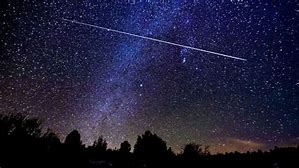 "How we spend our days is, of course, how we spend our lives." – Annie Dillard
 On a typical Thursday evening on yet another school night the last thing a student would want to do is to look outside and look at the sky. I, for one, can relate to my fellow peers entirely, being caught up in my private lessons and studying for my physics quiz with my friend for five hours (this is not the typical norm, but you get what I'm saying). However, as I am grappling through my third year of high school, caught up with loads of work and diligently completing activities ranging from derivatives to identifying inductive arguments, this weekend I took the time to reflect on myself, ignoring the aspects of school I currently had to face. Being so caught up on work made me realize that I had not been able to partake in possibly one of the most rare occurrences in the realm of our galaxy: the unicorn meteor showers.
  Two meteor scientists named Peter Jenniskens (NASA's Ames Research Center) and Esko Lyytinen (Finnish Fireball Network) shared their prediction for an outburst by the alpha Monocertoid meteor shower between November 21 and 22. The two scientists state that these meteors come from a dust trail from an unknown long-period comet that takes over 200 years to travel one time around the sun. Once in a while, however, the mysterious comet's trail of dust travels super close to Earth's orbit, accumulating into a bunch of meteors. The dazzling display in the night sky could potentially include up to four hundred meteors. The scientists predicted the time of the outburst to be 11:50 pm, with the peak of the outburst lasting for approximately 15 minutes and the entire shower clocking in at 40 minutes.
 The best views will be in South America, eastern North America (where we reside, western Europe, and northwestern Africa. One may ponder on the name of these specific meteor shower, and this can be attributed to the fact that the radiant point of the showers is in the Monoceros, also known as the "Unicorn constellation", near Orion the Hunter.
"For East Coast observers, the peak should come at 11:50 p.m.," the Farmer's Almanac said in a statement. "Meteor activity should quickly rev-up after 11:30 and conceivably could be all but over by 12:10 a.m. It will be that quick."
One may ask why this is such a big deal. Why are we drawing close attention to this particular astronomical phenomenon? Besides, the alpha Monocertoid meteor shower usually happens each year around November 21 to 23, but during a normal shower, it produces a few meteors each night.
"If nature is in a show-off mood, you might end up seeing dozens of shooting stars to wish on," the Farmer's Almanac said. "If the display falls short, and you don't try too desperately hard, you might still come away seeing one or two really beautiful meteors."
 Large outbursts of this meteor shower have only previously occurred in the years 1925, 2935, 1985, and 1995, which came as complete surprises for each year it occurred (minus 1995 when it was actually predicted, according to the American Meteor Society).
  However, what makes these showers so unique? What differentiates them from the common meteor showers falling toward our planet throughout various points in the year? To answer that, meteor scientists describe that the stream of meteoroids only intersects the Earth's orbit occasionally, which is what makes the potential outburst so rare and valued under the common eye. 
The conditions for these unicorn meteors are reflecting the conditions of these meteors in 1995, sparking a sense of hope among meteor scientists, even if it's just a prediction.
During the outburst in 1995, the hourly rate of meteors was around 400 meteors per hour. If the scientists' predictions were to be true, then sky gazers can expect to see approximately seven meteors dancing across the sky per minute. However, the rate would entail two to three meteors close together and then another minute before activity picks up again. These meteors will be moving at an approximate rate of 140,927 miles per hour.
Scientists suggested that people prepare to observe the sky an hour before the predicted time in case the shower begins earlier.
Did you look out your window the past Thursday and Friday, or were you absorbed by the tendency of humanity to focus only on what's in front of them? These unicorn meteors depict the beauty created by the natural world that is hidden by the boundaries of our minimalistic behaviors. Sometimes, we need to take a step back. Allowing yourself to indulge in Earth's organic actions enables us to establish a sense of fulfillment not comparable to the short term satisfaction we receive from our phones, laptops, TVs, and other digital forms of entertainment. Now, as a student myself who occasionally can amass a screen time of seven hours one day, I understand how hard it is to not pick up your cellular device to aid us with short spurts of entertainment to get us through the day. I get it. Perhaps, however, we can all learn to open our eyes to truly see the world around us for what it's worth. Humans were made to enjoy the experiences of nature, and it would be a shame if we were not to take advantage of a gift we are so lucky to possess.