The Origin of Halloween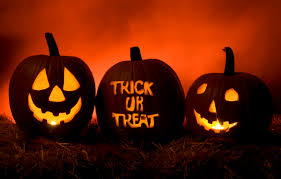 On October 31, people get ready for one of the spookiest and most exciting holidays in America: Halloween. Some of the things that come to mind when we think about Halloween are trick or treating, candies, costumes, etc. However, did you ever wonder about how and when Halloween originated?
Halloween dates back to the ancient Celtic festival of Samhain. The Celts lived in much of Europe and Asia Minor in pre-Roman times where they celebrated their new year on November 1st, the day that they believed marked the end of summer and their harvest. They also believed that the day before, on October 31, the ghosts of the dead returned to the earth and celebrated Samhain. Druids, Celtic priests who predicted the future, made bonfires where people gathered to burn their crops and sacrifice their animals to God. During Samhain, the Celts usually wore animal heads and skins as costumes and told each other's fortunes. 
Later on, Pope Gregory III decided November 1 to be the day for celebration of all saints which eventually blended in with the Samhain culture. The night before was called Hallows Eve which later turned into Halloween. As people migrated and different cultures clashed, Halloween was adapted in America where a new concept of Halloween, more similar to present-day traditions, was formed. In America, on Halloween, people held parties to celebrate successful harvests, shared stories of ghosts while they danced and sang. Additionally, present-day tradition of trick-or-treating where people go from house to house asking for candies, was adapted from the Irish and English when Americans started to go around neighborhoods in costumes to ask for money and food. Furthermore, in the late 1800s, Halloween was molded into more of a community get-together event rather than one regarding witchcraft and apparitions. During the 20th century, Halloween became a friendly holiday disregarding horrific, or religious aspects. I hope this article helped solve the mystery of where Halloween originated from and I hope everyone who is celebrating Halloween this year has a great holiday with friends and family.