Van Gogh: The Immersive Experience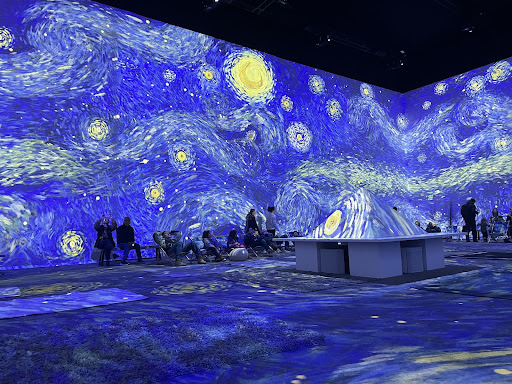 Hana Kim, Contributing Writer, Video and Photo Editor
March 7, 2023
Van Gogh. I'm sure you've heard his name before associated with the Starry Night and many other famous paintings. He was a painter who was under-appreciated during his career, and only more recently is being given the attention he deserves. His career was remarkably short at only 10 years, and yet he still managed to create a total of 900 paintings in that time frame. His signature trademark is bold color choices, complemented with big, dramatic brushstrokes that add emotion and interest. His art is strikingly beautiful, and manages to catch your eye and hold your attention. However, his paintings weren't the only unique thing about him–his personal life was quite interesting as well. 
In fact, it was so special that there is a whole immersive exhibit dedicated to his history and his work. It has been touring since 2017, and its website claims that there have been over 5 million visitors. Its tickets are $34.90 for anyone over 12, and $20.90 for children younger than that. The exhibit is in numerous locations, including Singapore, London, and our very own Albany. 
Over winter break, my family and I had the opportunity to go and visit it. There were 6 main rooms, including the entrance and gift shop. The highlight of the entrance was a wall of sunflowers, which was the perfect place to take pictures in front of. As you proceed through the exhibit, there was an entertaining timeline of his life on the wall, detailing his surprisingly tragic life. It included events like how he cut off his own ear, lost his friends, and shot himself, just to name a few. The next room showcased many printed versions of his work, with detailed descriptions next to each. It was very reminiscent of a room you would encounter in any art museum. The room next to that displayed 3D, interactive versions of some of his art pieces, including a life sized version of the "Bedroom in Arles". I thought this was really creative and unique to this exhibit. 
Now, the next room was by far, my favorite. It was a big, spacious room with comfortable chairs and rugs set up in a circle. There was a sequence of animated projections on the walls, showcasing a lot of his pieces, with fitting, calming music playing in the background. It was kind of like stargazing, but better. In one word, it was magical. I would revisit this exhibit just to experience that again. 
As you walk out of this room, you're met with a room with tables and bins of crayons that you could use to fill in coloring sheets of Van Gogh's famous paintings. You could even tape your masterpiece to the wall when you're finished, so that you can show what an amazing artist you are to your friends and family. I definitely did. Right next door to that room was a space with an optional VR experience that cost an extra $5 to experience. According to my brother, it was really cool. And with that, you near the end of the exhibit. The last stop is, of course, a gift shop. I personally bought a cute little magnet for the fridge, but there were many other things for sale. 
All in all, this exhibit was a really enjoyable experience, and I would definitely recommend it to anyone interested in art or just want something fun to do with friends. I think this exhibit made the art more fun to understand, so even people who get bored at regular museums would enjoy this. The exhibit is being discontinued at the end of February, so make sure to get tickets before it's gone.