No More Parties In LA For Ye- Ye West's Antisemetic, White Supremacist Spiral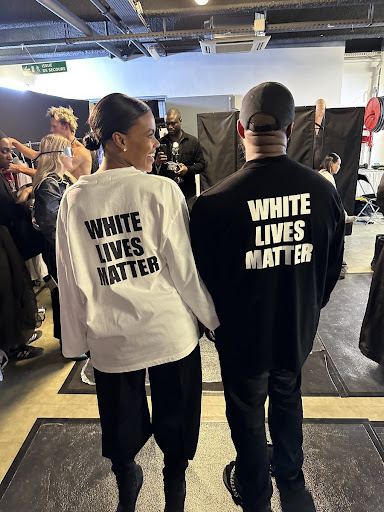 On Monday October 3rd, 2022, Ye, formerly known as Kanye West, debuted his ninth "YZY SZN" in Paris. His eleventh fashion show consisted of infamous models and celebrities: Naomi Campbell, Michèle Lamy, James Blake, and Selah Marley, the daughter of Lauryn Hill, all sporting Ye's classic muted-tones and oversized designs. Despite having a multitude of people of color, both in the crowd and in the show itself, Ye displayed basic black and white T-shirts with large font saying, "White Lives Matter." His provocative T-shirts spread digitally like wildfire, instantly receiving backlash from companies, organizations, celebrities, and even government officials. In an effort to make some sense of the situation, Ye was invited on to Fox News for an interview with Tucker Carlson. When asked why he did it, Ye had a short, ignorant response that only prompted more questions— "The answer to why I wrote 'White Lives Matter' on a shirt is because they do."  According to The Southern Poverty Law Center, the term "White Lives Matter" is heavily associated with a Neo-Nazi groupcarrying the same name, that was founded as "a racist response to the civil rights movement Black Lives Matter." 
Later that same week, on October 9th, Ye tweeted he was going to go "death con 3 on Jewish people," an apparent misspelling of "defcon," and then followed it by saying that is was not anti-Semitic for him to say because "black people are actually Jew also." After this evident breach in Twitter's rules against hate speech, West's account was promptly locked by the social media platform. Justified public outrage led to an interview on Piers Morgan Uncensored with West on October 19th. After saying he did not regret his anti-Semitic remarks, West apologized to "the people that I hurt with the 'death con'" comment and to "the families of the people that had nothing to do with the trauma that I have been through." Throughout the interview West continuously tried to justify his actions as "fighting fire with fire." 
Since Ye's show on the third, his rolling antisemitic remarks, and bigoted interviews, he has been dropped by both Balenciaga and Gap, and has also been condemned by countless other brands and celebrities. After West's actions, Adidas stayed silent for a while, only putting their partnership "under review." This dismissal by big business has brought forth a new hashtag, #boycottadidas, which rapidly consumed Twitter's trending page. Many outsiders agreed that the shoe company was putting profits over ethics, as their Yeezy line made millions. Finally, on October 25th, the activewear giant formally terminated its partnership with Ye, releasing a full statement denouncing his harmful remarks.
Ye's behavior is not new, nor is his proclivity to share it with the world, and considering such, it begs the question. 
Will he ever own up to it?