Advanced Studio Two First-timers Participate in National Portfolio Day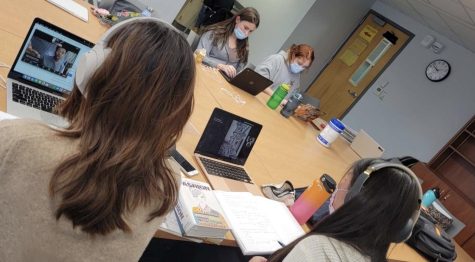 Hannah Yu, Social Media Director
April 12, 2022
On Friday, December 10th, 2021,  Juniors in Advanced Studio Art 2 attended Shaker High School National Portfolio Day for the first time, from periods four to eight. 
National Portfolio Day is an event in which representatives, admission team members, and faculty from art and design schools review your portfolio before you apply to colleges or universities. This event is a great opportunity to learn more about different schools for students who are serious about getting accepted into a higher caliber undergraduate art program.
Usually held in person, students would wait in long lines along with other eager country-wide students for a portfolio review from their desired art school. A student would typically walk away from the event after talking to about 2-3 colleges. However, the event this year has transitioned to an online format due to the COVID-19 pandemic. Students can visit the official National Portfolio Day website to register for the event and browse the array of available local, state-wide, and international Art schools. After clicking on their desired school, they would choose one of the available time slots to schedule a zoom meeting.
For the juniors in Mrs. Lue and Ms. Chornyak's Advanced Studio Art 2 class, National Portfolio Day serves as an opportunity to dip their toes into the big world of art colleges and universities. These devoted art students have been following the art track since their eighth-grade days, working endlessly on art pieces and projects. Now as juniors, they've finally curated their portfolio enough to showcase their art skills.
Yet, despite the new format, students have not found the process to be any less rewarding. Lucy Lee, a junior at Shaker, has pursued the usual art sequence of visual and media art, while also picking up a painting elective on the side. "It was actually pretty simple to schedule a meeting, because it wasn't as long of a wait," Lee says. "You would click on the link they sent out, and within one or two minutes of waiting, you'd be able to talk with a reviewer. Everything is on one page as well, so it's super organized and straightforward." 
Lee has been looking forward to participating in this event, and was excited to talk to representatives from art colleges Parsons and Pratt.
"Your National Portfolio Day experience kind of depends on which art college you go to get a review. Some gave very general information, while others were very specific and critical," Lee says. "Parsons was a school that didn't require observational pieces, and focused on conceptual works that showed your style. Experimentation and diversity in media (like sculpture, collage, and process documentation) was very important to them." 
National Portfolio Day is not only limited for students who wish to pursue an education related to art or design in the future, but open to students who want portfolio reviews on a professional level as well. "I heard in class that even if you're not going into art college, you could go for a review if you want to submit a supplemental portfolio for college, so I thought that would be useful," Junior Shivangi Verma says. 
Within the event, student experiences varied depending on which school they chose to get a review from. "One of them wasn't helpful. Don't go to art school in Canada," Verma jokes. "But another school helped me in ordering stuff. They showed me a new way of thinking and organizing a portfolio." 
In the end, many students are more motivated to expand on their portfolios after receiving insightful feedback from art college representatives, and are looking forward to the next virtual portfolio days in February and March. 
"I expected it to be scarier, but it wasn't horrific. I feel like presenting in Science Research is scarier." Verma thoughtfully comments. "I gained more experience in talking to people and presenting my artwork."