The First 9 Days: Russian Invasion of Ukraine
FEBRUARY  24, 2022 DAY 1
Putin announces 'special military operation' to "liberate" people who '

have been subjected to abuse and genocide by the Kyiv regime for eight years.' 

At 4:00 am the first series of missile attacks hit locations near Kyiv and Kharkiv.  The invasion officially begins. 

Ukrainian parliament announces martial law. 

In the coming hours citizens report huge explosions in Odessa, Dnipro, Mariupol, and Kramatorsk.

A cruise missile launched from Belarus hits a military installation in Ivano-Frankivsk International Airport. Airports in Kharkiv, Ozerne, Kulbakino, Chuhuiv, Kramatorsk, and Chornobaivka also become targets for Russian missiles. 

Ukraine closes off the skies to Russia, and urges other European countries to do the same. 

Ukraine cuts off all diplomatic relations with Russia. 

Thousands evacuate out of Kyiv and Eastern regions into the west, and to the border of Poland. The Transcarpathian regions prepare to meet refugees by setting up clubs and gyms as living space, preparing food, and beds. 

137 Ukrainians were killed on the first day. The majority civilians.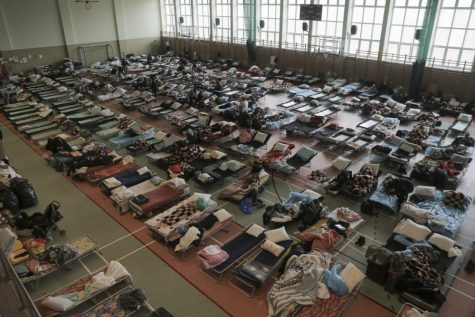 FEBRUARY 25 2022 Day 2
13 Ukrainian soldiers were at first pronounced dead on Snake Island after refusing to surrender to the Russian warship and fighting bravely to the very end. 

Russian forces capture Chernobyl. 

The White House says it has received reports that staff are being held hostage at the site by Russian soldiers. The desire to acquire and battle for nuclear power stations has been unprecedented up until now. 

Russian forces begin surrounding Kyiv with intense bombing and missle strikes. Street fights rage in the city and thousands hide in metro and train stations as makeshift bomb shelters. 

Tens of thousands of people rally in Georgian capital Tbilisi in support of Ukraine and in opposition to the war. They also call for the resignation of

Georgian Prime Minister Irakli Garibashvili, who said his country would not join the West in sanctioning Moscow.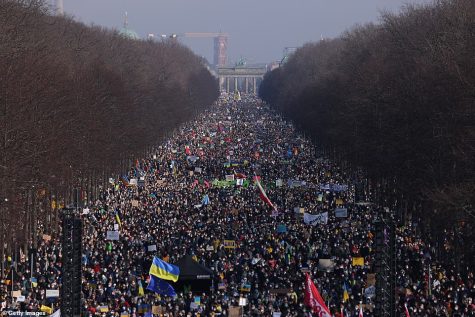 FEBRUARY 26 2022  Day 3
Vitaly Skakun Volodymyrovych sacrificed his own life while exploding a bomb to destroy a bridge in the southern province of Kherson to stop invading Russian tanks from marching ahead. He is just one of the many heroes that are stepping out on the front lines for their country. Countless regular civilians prepare molotov cocktails for a "warm welcome" of the advancing armies. People gather together and stand in front of tanks, doing everything they can to divert and stall their movement. The Ukrainian people are fearless and show no hesitation in defending their country.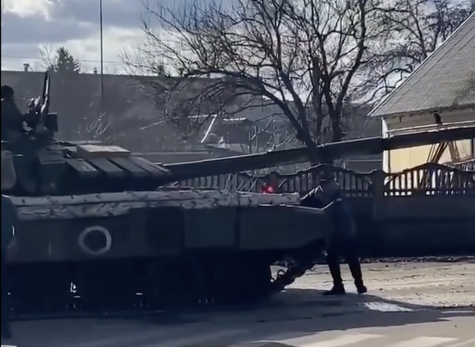 FEBRUARY 27 – Day 4
The U.S. refuses to send in troops to Ukraine in fear of launching a world war with its involvement. 

The largest aircraft in the world, the Ukrainian Antonov AN-225 (nicknamed 'Mriya', translated to 'dream') has been destroyed. On Twitter, Ukrainian foreign minister Dmytro Kuleba responded to the attack, "Russia may have destroyed our 'Mriya'. But they will never be able to destroy our dream of a strong, free, and democratic European state. We shall prevail!"  
FEBRUARY 28 – Day 5
The first round of negotiations between Russia and Ukraine take place near the Belarusian border. 

President Volodymyr Zelenskyy signs Ukraine's application to be a part of the European Union. 

Russia reports first casualties in their ranks: "Unfortunately, some of our comrades are dead and wounded." According to Ukrainian intelligence, Russia  deployed several mobile crematoria near its border with Ukraine. 

In order to withhold the information of the war, Russia is not reporting the accurate death toll of their soldiers. As of March 4th, 2022 Russian fatalities appear to be in the thousands in 9 days of full scale attack. To put this in perspective, 5,732 Russians died in 2 years during the first Chechen war. 

By the end of February 28th, 366 Ukrainians died as a result of Russian ruthless attacks on civilians. 16 were children. 

The 13 Ukrainian soldiers previously pronounced dead on Snake Island were confirmed to be alive but in captivity.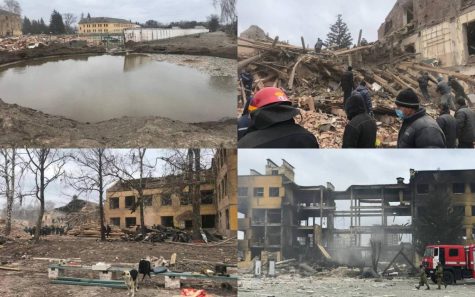 MARCH 1 2022 Day 6
The Russian forces launch an airstrike on the Freedom Square in Kharkiv; 10 people are killed. 

The World Bank Group and International Monetary Fund prepares $3 billion in aid to Ukraine. 

The TV Tower, the tallest building in Ukraine, reportedly takes a hit from two missiles. Mayor Klitschko reports that experts are now working to restore the tower's full operation. 

These missles also have slammed into the adjacent Babyn Yar Holocaust Memorial where 100,000 Jews, Ukrainian citizens, were murdered by the Nazis in World War Two. President Zelenskyy tweets "History repeating…." Others mock President Putin for his earlier claims of his "de-nazification" operation in Ukraine.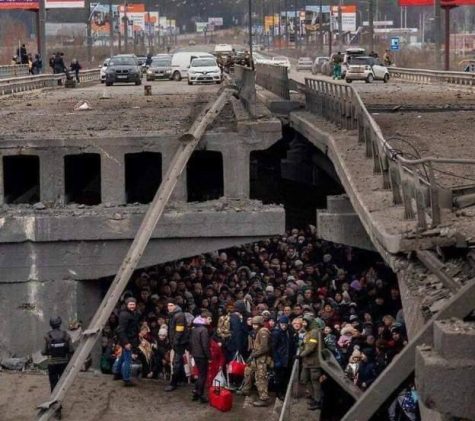 MARCH 2 2022 – Day 7
Rumors arise of Russia's plan to send out a fake announcement from President Zelenskyy declaring Ukraine's surrender with a signed peace treaty with the Russian Federation in order to instill panic and distrust amongst the Ukrainian citizens towards their president.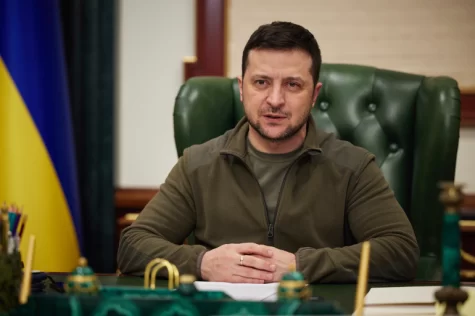 MARCH 3 2022 – Day 8
Battles rage around Sum, Kherson, Kharkiv, Kyiv, and Chernihiv.  

The second round of negotiations with Russia begins. A delegation of representatives from Ukraine leaves for negotiations with Russian delegates somewhere on the border of Poland and Belarus, but of course the location is unknown. The two sides come to an understanding that humanitarian corridors need to be organized to evacuate citizens from areas that are at highest risk, as well as provide those in need with essential supplies, food, medical help, and evacuation routes. A cease fire would be needed in the areas that these corridors are implemented. 

The world continues to set sanctions against the Russian Federation. Today the European Union (EU) has fully closed the skies to them in aid to Ukraine. 

From the latest data collected by the United Nations (UN), it is estimated that around 1 million refugees have fled Ukraine.

Fire is recorded at the Zaporizhzhia Nuclear Power Plant due to the stand off between Russian and Ukrainian troops and the first power unit building was hit as of 7:20 pm EST. Fire fighters are not able to arrive at the scene due to bombardment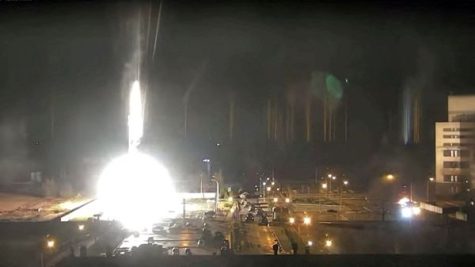 MARCH 4 2022 Day 9 
NATO refuses to impose a no-fly zone over Ukraine as Russia steps up its attacks. President Zelenskyy responds with an address directed at NATO,

"You will not be able to buy us off with liters of fuel for liters of our blood." He also thanks all of the European countries that have stood by Ukraine's side. 

The fire at Zaporizhzhia Nuclear Power plant is put out and under control. Unfortunately the Russian forces were able to take control of the station, and there are three confirmed fatalities. Staff members are held hostage, with an estimated 500 Russian troops in the station. The shelling of Enerhograd left its inhabitants without heating, or electricity.