"Wind Ensemble Night" at Shaker
On June 2, just weeks before the end of the school year, the Wind Ensemble held its first full and in-person rehearsal since the beginning of quarantine in March of last year. 24 musicians were seated on the stage, including both the North and South cohorts, plus both the hybrid and (most of the) remote students.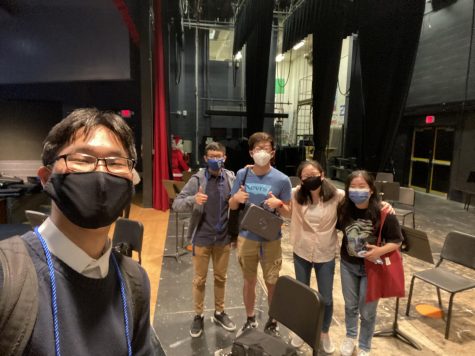 The ensemble rehearsed for half an hour, playing through its three pieces, before performing for a small, casual audience of family and friends. The program included:
The Star Spangled Banner (by John Stafford Smith, arr. Jack Stamp)

The Fairest of the Fair (by John Philip Sousa)

El Capitan (by John Philip Sousa)
The various groups of the music department—including Symphonic Band, Chorus, and Orchestra— held their own music "nights" throughout June. They are not considered formal performances, but rather, opportunities for the students to gather and play with each other. 
Near the end of the evening, various awards were presented to members of the ensemble. This included trumpet players Hailey Cook and Connor Doherty for the Louis Armstrong Jazz Award, and clarinetist Istan Slamet for the John Philip Sousa Band Award. Istan was also presented with the Linda Wagner Performance Award, which is given to a student in the music department who embodies strong musicianship, talent, and involvement in music.
Senior Claire Kim, who has been playing the flute in the Wind Ensemble for four years, described Wind Ensemble Night as being bittersweet.
"I liked it because we had a chance to play together for once, and it was a nice change from the virtual recordings we were doing."
But it also made her realize how much she and the ensemble missed out on due to the pandemic. 
"Events like NYSSMA Majors, the annual performance at the Empire State Plaza, and the regular school concerts throughout the year would have been fun, especially as a senior."