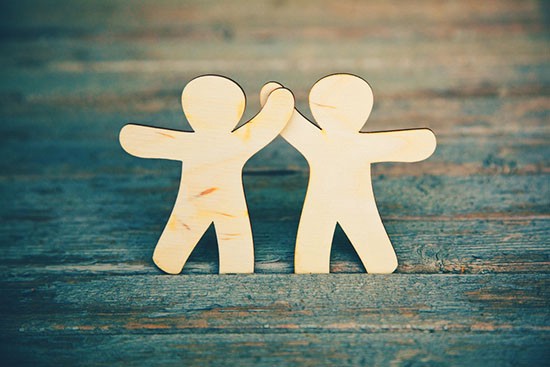 Introspection #7: Separated by Distance, United by True Friendship
How would I define myself? I am a classical musician, a Warrior Cats enthusiast, and a journaler.
And my friend, Mark? He is an avid doodler, an Artemis Fowl enthusiast…
…And one of my best friends.
It all began one day during math class in seventh grade when my teacher prepared for us an interactive activity involving group work. Most kids had already formed their little pods of buddies, so it was difficult for me to choose who to work with. Additionally, I barely knew anyone since my math class consisted of people across various "halls," or sectors of the school. I was part of the "Clay" hall, but our class also contained students from "Calhoun," "Norris" and "Houston" hall. Considering that I was, and still am, very much an introvert, my brain was on the brink of a mental shutdown. My desperate eyes darted around the classroom for a place to sit, with me constantly worrying that I would look like a fool if I loitered in the middle of the classroom for too long.
But there was a table with just one kid. I saw the kid in other classes since we were in the same hall, and like me, he seemed quite shy. Seeing him alone in the classroom ignited intense sympathy within me, for my reserved personality provided me with experiences that allowed me to understand how he felt. No matter how pure an introvert's soul is, people struggle to see their light if the introvert is too nervous to let it shine. Due to our elusive personalities, people do not know what to think of us. The world is against introverts.
However, seeing him uncomfortably isolated among a storm of seventh-graders reflected a situation I dealt with every day as a timid individual. Wanting to give him a chance to prove his good-hearted nature, I decided to collaborate with him on the activity. I approached the table offering an awkward "hello," radiating his face with surprise.
Little did I know that my life would change forever after that single interaction.
 We completed the assignment, which entailed running around to various tables to complete math drills within a designated time.  Minimal words were exchanged between us, but there was a gentle aura of relief in the air as we worked to calculate problems together, despite the heavy pressure the activity evoked. I felt safe around this kid. I felt known around this kid.
I wanted to be this kid's friend.
I usually lack the confidence to initiate a friendship. Yet, a feeling in my heart told me that I could not let an opportunity to acquaint myself with this kid evaporate like a puddle on a scorching summer day. Initially, we had brief, but pleasant, moments of awkward small talk, and as the compatibility of our personalities became more apparent,  our conversations were soon loaded with memorable jokes and heartwarming stories. We joked about windows, laughed about isolines, and fantasized about a universe in which everything was subject to spontaneous combustion. Out of context, one may find these topics peculiar, but to me, they hold profound meaning. This kid is my first true friend. The kid is, indeed, Mark himself.
Today, he lives all the way in Pittsburgh, Pennsylvania.
I will never forget the day in my sophomore year when I was sitting in the library after school with Mark and our friend, Izzy when Mark revealed that he would be moving away to Pennsylvania due to a job opportunity that his dad received.
I was at loss for words.
I used to think that friends were simply anyone that I could have fun with. At least, that's what The Backyardigans portrayed to me in elementary school. Hence, my "best friend" would be the friend that I could have fun with the most, right? But my loose definition of a "best friend" proved to have flaws because depending on my mood, I used to declare someone new as my best friend essentially every day. But humans are too fickle to enjoy someone's presence the most at all times. So, I eventually gave up, deciding that the idea of a "best friend" was not for me.
That was me in my childhood days.
I am nearing adulthood now. Even though society would say it is "unmanly" for me to do so, I am brave enough to admit that I am now more sensitive to my emotions. As a teenager, I face considerably more struggles than I had when I was a jubilant Kindergartener. The world is no longer the euphoria-filled glory that my spirit freely flourished in as a child. With experience comes the opportunities to encounter glimpses of how cold this planet can actually be. However, with each painful second of concealing feelings of desolation, I am a rubber band being mercilessly stretched until I inevitably snap.
But Mark was, and is, always there to gently release the tension.
As Maryanne Wolf notes in Reader, Come Home, empathy is concerningly declining among humanity due to the decline in physical interactions in our digital era. But as proved by humanity's recent good deeds, some faithful people still emphasize cultivating a strong community that serves to uplift each other in these troubling times of gradual disconnection. For instance, the Shaker Key Club organized a virtual 5K that raised money to feed over 104 residents in the Capital Region around Thanksgiving. Secondly, during the summer, residents rallied in Troy to demand the rights of black individuals, accentuating the need to cherish diversity and foster inclusion. Moreover, U.S. Representative Alexandria Ocasio-Cortez hosted an "Among Us" stream on Twitch that accumulated around $200,000 for coronavirus relief.
I acknowledge the value in those people's beliefs, for I realize that others can push us to become better individuals by gifting us a plethora of experiences that force us to re-evaluate where we are in life and how to proceed.
We just need to listen to them.
And just as I always listen to him, Mark always listens to me. I thank Mark for devoting an hour over text one day to consoling me when I felt particularly hopeless. I was panicking over my uncertainty of what I wanted my career path to be,and Mark, sharing my concerns, assured me that it was okay for me to not be set on my future. I thank Mark for inviting me to sit with him at lunch whenever I felt worthless for not finding a group at a table that would accept me. Initially, I felt like a ball endlessly tossed within the cafeteria, but Mark offered me a place to settle, introducing me to more wondrous students as well. Most importantly, I thank Mark for endlessly telling me to believe in myself more. Even though I can be a very pessimistic person, I am gradually accumulating the strength to keep my head forward and persevere through disappointing moments. I can attribute my steady increase in optimism to friends like Mark, who encourages me to see my worth and comprehend that even the most gorgeous diamonds have their scratches. While I will always have my self-doubts and scold myself for my mistakes, he helped me accept that it is whether or not one decides to address their flaws and learn from them that he/she will enjoy success in life.
No matter how many obstacles threatened to split us apart, our friendship has not waned, even for a second. Recognizing this phenomenon, I believe, is the reason why I was not in utter distress when Mark told me that he was moving away from New York. Of course, I was sad. When I got home after I received the shocking information, for a moment I had to silently lie down next to my mom on her bed to internally assess the news that I received. But deep inside, I knew that even though we were going to become physically apart, our emotional connection would stay intact, and most likely even grow.
Now that we are in the middle of a pandemic physically separated from many of our companions, more of my peers are going through the same emotions of anxious solitude that I felt when Mark moved away. This pandemic has provoked many people to discover who their genuine allies are, the ones who will continue to remain at their side despite the barriers between them. This experience is a taste of what many of my senior peers will face in college, in which we will have to endure years of receiving an advanced education without the smiles, laughter, and hugs of some of our dearest high school pals. At least I will not have to combat this situation as a novice. I have lost some friendships during this lockdown, but my friendship with Mark is still evolving gracefully.  Thus, for those troubled with determining which of their friends are true, I offer that my long-distance friendship with Mark highlighted the beauty in holding a spiritual connection with beloved individuals, enhancing me elegantly.
Despite being miles apart, Mark and I inspire each other to become better versions of ourselves by emotionally responding to each others' needs. This intimate aspect of the relationship that I have with Mark inflicted me with a realization that I had spent 15 years of my life with a wildly inaccurate perception of what it takes to be a best friend.
I had believed that my best friend should be a friend who is best with me.
But Mark taught me that my best friend should be a friend who is best for me.