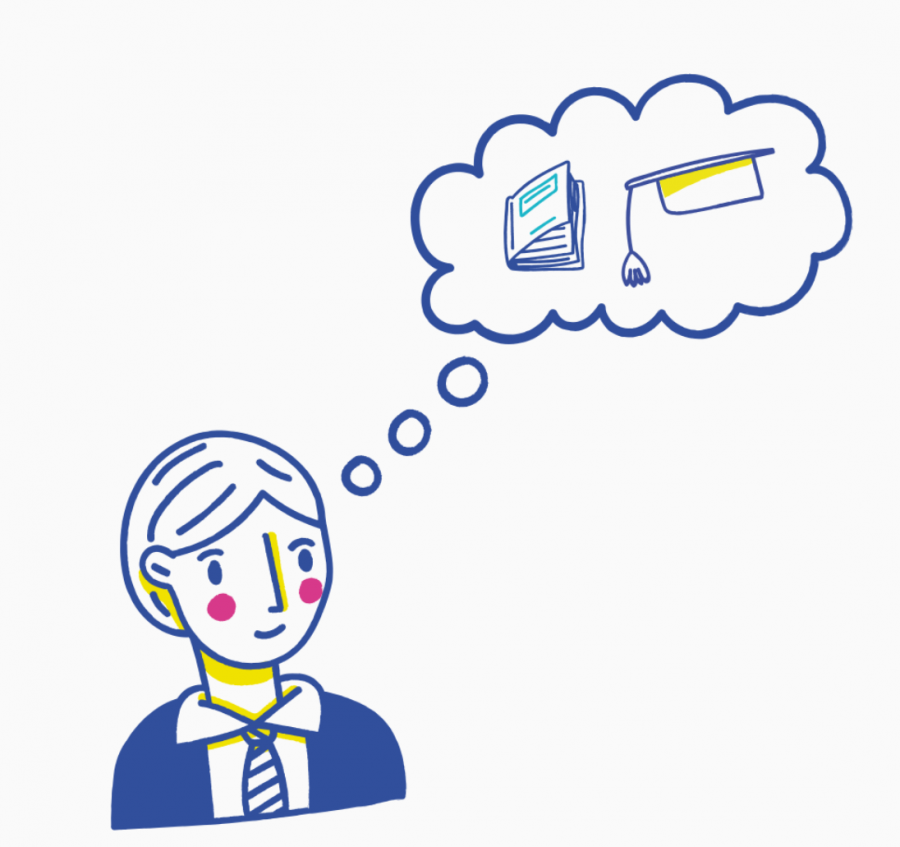 College Tips?
D
ear Shaker Bison, what tips do you guys and gals have for college application and all that jazz? ~ Anonymous
Dear Anonymous,
It's an age-old question that has lingered around high school students for generations. Everyone seems to have a different opinion and contrasting answers, but that's only because there is no right answer to approaching the college process. 
The first thing to realize about the whole process is that it looks different for everyone. This is why comparisons are so toxic. There's nothing wrong with checking in with others to see where you are, asking friends to edit your essays while you edit theirs, or talking to each other along the way. But be sure to draw boundaries for yourself—focus on what you have to say in your essays and application, and don't get discouraged because of anyone other than yourself. 
Along the line of comparisons, try to make this whole process your own. Your parents, friends, counsellors, and teachers will all have their own opinions, but you know yourself best. It's always helpful to brainstorm and receive advice from others, but let your views be final.
 But those were kind of obvious, right? So what are some more concrete steps you can take to make it all just a little easier?
First – don't think about college until the middle, or even the end, of junior year. It's easy to freak out as soon as freshman year hits. What clubs do you join? What classes look most impressive? What pivotal, life-changing event can you write about? Try to stomp on those questions, and instead ask: What interests me? What do I want to explore? High school is too often seen as a bridge to college, but you'll get so much if you just let yourself soak it in. Let yourself join the activities that you feel excited to go to, even if it doesn't seem impressive or helpful to your college applications. If you guide yourself with genuine interest, you'll see that it will help you in the end.
This piece of advice comes with fine print, though. The next idea you should consider is: if you don't, no one will. Be active rather than not! If nothing is holding you back from going to that club meeting, volunteering for an opportunity, or participating in something other than… ehhh just a little bit of laziness or a little inexplicable hesitation… try to remember that your college applications will reflect years of effort, not just a few months during the first semester of senior year. It's the seemingly unimportant, trivial energy you put in every day that adds up. 
Regardless of where you are in high school, try keeping a primitive résumé of what you do—open up a Google Doc and jot down any activities, sports, awards, or accomplishments you receive. It doesn't have to be perfectly developed by any means, since it'll just be a helpful list to reference for later (if you form an official résumé or need to remember an extracurricular you'd forgotten.)
Writing Essays… and More Essays
The essay seems daunting, like some magical piece of writing that will have hours of tears and sweat behind it, perfected by years of anticipation and preparation. But the process is a lot less glamorous than that, unfortunately.
You'll climb the tallest hill right from the start. The first draft. This is what the first piece of writing advice addresses: remember that there is no such thing as a bad first draft. Unpolished? Sure. Not exactly what you want it to be? That's a given. Completely off the mark and something you'll scrap by tomorrow? Not unlikely. But you won't ever know if you don't get your jumbled ideas and clumsy words out there through your first drafts, as hard as it might be to march through the cringe and discomfort and feelings of disgust. Let your ideas flow, and focus on revising it later.
Make sure to also save each of those drafts, marked with the draft number and date if you're feeling especially organized. Beyond the single main college essay, you'll likely be bouncing between smaller supplemental essays specific to each school, scholarship applications, and all the writing in between. (For example—some teachers will have you fill out a questionnaire about yourself, if you ask them for a letter of recommendation. If you spend time creating longer, thoughtful responses, save them to refer back to later!) You end up recycling and drawing inspiration from your old writing more often than you'd think.
One tip that might have a less visible impact—keep a journal, diary, "Rantbook," or any old notebook to reflect on a day. This could be a daily routine, writing a little about each regular, ordinary day. It could be an outlet you turn to when you have an especially hard and stressful one. Or it could even be one entry you write at the end of a month or year. There are absolutely no rules to how this works, other than writing about something that happened, something that's on your mind, or quite literally anything else you think of. It'll get you in the practice of reflecting on life moments, your personality, your values, and other meaningful thoughts (though you won't be able to tell as you do it). In the end, it'll be just a  little bit easier when it comes time to squeeze and exhaust every dimension of your life's essence through the college process and its hordes of supplemental essays.
This is easier said than done but manage your time. Make sure you're spacing the various steps of the process (writing essays, organizing a resume, etc) so that you have enough time to breathe and relax. If you can, use the summer before your senior year to have at least a rough draft of your essays. On the flip side, though, the earlier you submit, the longer your wait will feel. There's a fine line of being proactive and having to wait for way too long. Start early (but not too early!)
Final Thoughts
If you feel behind or lost, realize that you aren't alone. 

Find an anchor throughout the process—a calming song, a video game, a jigsaw puzzle, spending time with family, or a slice of pie. Something that lets you separate yourself from the hustle and bustle of it all from time to time. 
Be humble, and find a balance between arrogance and self-deprecation in your application. If there's one thing that matters most in the college process, it's authenticity and sincerity.

Find a senior or someone older to talk to. Having a "mentor" can be incredibly valuable, and nearly everyone who has gone through the process is willing to talk about their experiences to help out.
Please feel free to send in any specific college application-related questions as well! They are warmly welcomed by our senior advice columnists.
Wishing you the best of luck,
~ The Shaker Bison