The Rise of Justice Amy Coney Barrett
On October 26th, Justice Amy Coney Barrett was confirmed by the Senate to the Supreme Court. A mother of seven and a former appeals court judge, she thanked President Trump in her confirmation speech for "entrusting me with this profound responsibility," which she described as the "honor of a lifetime."
After just over a week, President Donald Trump was able to quickly add the 48-year-old conservative intellectual to the highest court presiding over the United States. Upon completion of a four-day hearing in the Senate, she was confirmed just over a week before the presidential election by 52 yes votes to 48 no votes.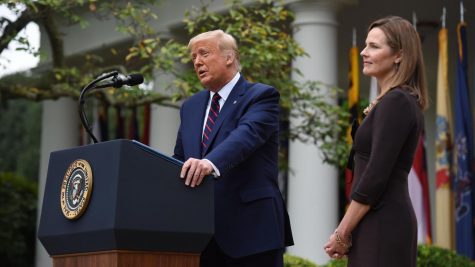 Justice Barrett will be replacing former Justice Ruth Bader Ginsburg, who passed away from metastatic cancer at age 87 on September 18th. A few days before passing, Ginsburg dictated the following statement to her granddaughter Clara Spera: "My most fervent wish is that I will not be replaced until a new president is installed." Her death left behind a political struggle for control of the Supreme Court. That's because this opportunity gave the Republican party the chance to further tighten their grip on the Supreme Court through another Trump appointment, allowing conservatives to have a 6-3 majority.
Trump has succeeded in doing so. With Judge Barrett added to the court, her record on former gun rights and immigration cases demonstrate that she would be as reliable of a vote on the right end of the court, as Ginsburg was on the left-leaning side. Her vote, alongside an already conservative majority, will make a palpable difference in the decades ahead, especially on majorly divisive issues such as abortion and the Obama-era Affordable Care Act.
Judge Barrett studied at the University of Notre Dame's Law School and eventually graduated first in her class. She has experience as a clerk to former Justice Antonin Scalia, who she considered the "staunchest conservative" on the Supreme Court at the time. Similarly to former Justice Scalia, Barrett is an originalist — the belief that judges should interpret the words of the Constitution from the perspective the authors intended when they were written.
While Judge Barrett's legal opinions and remarks on abortion and gay marriage have made her popular with the religious right, she has earned vehement opposition from liberals. With our current dynamic political climate in the United States, it will be interesting to see how Judge Amy Coney Barrett will shape the Supreme Court and the decisions that come from it in the years to come.