Income From Insecurity
"The Most Important Number to a High Schooler": Why are kids still worried about standardized tests?
Three months of vigorous preparation. 1,000 Khan Academy questions. Four review books. Ten practice tests. As I was getting ready for bed on March 13, 2020, I found myself needing to take a deep breath to calm down.
You're going to be fine.
But the voice inside my head did not stop. I struggled to fall asleep, my mind racing with thoughts and concerns about the dreadful morning I would inevitably open my eyes to.
Will I finish in time? What if my calculator malfunctions? Will I accidentally skip a question? What will my parents say if I get a low score?
After hours of restlessly tossing and turning on my bed, I eventually forced myself to rest and close my eyes to mentally prepare for what could be the most frightening three hours of my life.
★   ★   ★
When I opened my eyes to get ready for the big day, I groggily glanced at my phone. Suddenly, my eyes were bombarded by the sight of hundreds of notifications from my peers, and curiosity urged me to discover the cause of all this commotion. 
Immediately, a cloud of uncertainty formed within me. Something was wrong. Reluctantly, I clicked on my WhatsApp notifications and saw large strands of texts from a bunch of my physics classmates over a distressing situation.
I was appalled.
Shaker High School decided to close its doors to all who registered for the March SAT.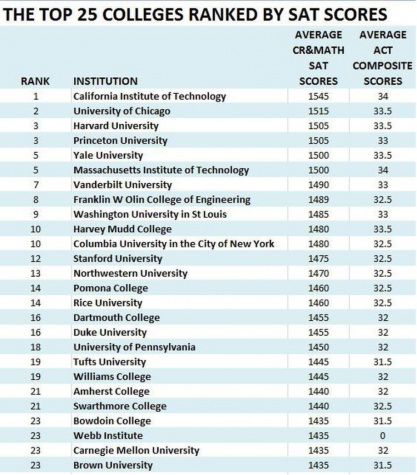 How necessary is that glorious 1600 nowadays? 
In any other year, I would have agreed with the majority of our nation's high school students that the SAT and/or ACT are, with no exception, the most important tests within the entirety of one's four years of high school. This year is different. This year, students have a rare opportunity to opt not to send any standardized test scores to certain colleges. Despite the widespread outrage from people, including myself, who believe that the tests inaccurately depict our intelligence, we are still fretting over the "optional" aspect most colleges have adapted in regards to standardized test score submissions. While it is understandable for students worldwide to feel overwhelmed by standardized testing, the one little score conceived from three minuscule hours of our whole lives should be nothing to dwell over.
Some of the first noteworthy schools to go test-optional included the University of California schools, who unanimously approved to suspend ACT/SAT requirements for all California freshman applicants until the fall of 2024. Pretty soon, big names, Brown, Stanford, Williams, and more, followed suits.
Eventually, an unprecedented 400+ colleges decided to stop requiring the SAT or ACT scores for 2020-2021 admissions. 
Despite this once-in-a-lifetime opportunity for the class of 2021 to triumphantly release their standardized testing anxieties once and for all, many still fear that not having a score will detract from their chances of getting into their dream colleges. This storm of worry stimulates immense anxiety among students, causing many to desperately spend hundreds of dollars to find an open test center before their terrorizing college application deadlines. 
However, with the pandemic still existing as a threat to the health of our nation's promising younger generation, test centers have decided to close their doors for prospective SAT/ACT takers until their conditions can be considered safe. This situation is the main motivation behind the test-optional policies so many colleges are adapting for the 2020-2021 admissions cycle.
Nevertheless, despite many schools explicitly promising to not penalize the class of 2021 for not submitting their standardized test scores, the extreme skepticism of their new test-optional requirements has not died a single bit.
For Shaker High School senior Claire Kim, "having a test score will give me an advantage over those who don't," defiantly disregarding many schools' reinforcements that test-optional really means test-optional. Kim represents just a tiny fraction of students across the globe who think exactly the same way.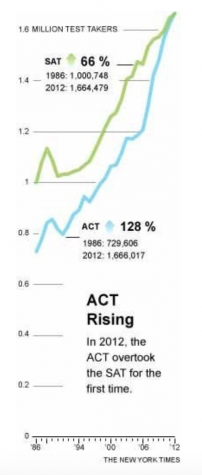 Many would expect that the closure of test centers nationwide, and therefore fewer opportunities to test, would lead to the death of CollegeBoard and ACT. Yet, standardized testing companies have continued to flourish thanks to the worries of thousands of American students. With the difficulties of transitioning to online learning, numerous canceled volunteer opportunities and greater grade flexibility across many American schools, it's no wonder why so many students believe that they absolutely need to pay for a standardized test score to firmly prove their grit and intelligence to colleges. 
Such drastic times call for drastic measures.
People like me are the reason why CollegeBoard and ACT are still thriving. After receiving notifications of test cancellations during March, May, and June, I was set on paying to purchase seats for the exams in September, October, November, and December.  By capitalizing on our anxieties, CollegeBoard and ACT have been able to survive amidst the pandemic as many other businesses have closed their doors for good. 
 Likewise, Shaker High School senior Istan Slamet admitted that he "actually registered to take the test on three different test dates" in fear of "another cancellation".
"I really wanted to get a high score on an SAT or ACT because I felt like the colleges would take notice of me, even though they're all going test-optional," Slamet recounts. "So on top of the pressure to actually do well on the exams, I was worried if I [would be] able to take any of them at all. And it definitely felt more frantic when I took it in August because I felt like I had only one good chance".
While Slamet was fortunate enough to have the opportunity to take the exam during the summer, for many students, this was not the case. According to the Atlantic, half of the 400,000 students nationwide who were supposed to take the SAT in August were not able to do so due to coronavirus-related cancellations. 
For students like Kim, these cancellations seem to put all the "time and money put into studying into waste", driving kids to despairingly invest a load of their energy and resources for the hope of attaining at least one testing session.
Interestingly, many kids possess the mindset that "optional" means "required," which does implicitly apply to many aspects of the college application. It's no wonder why so many of us apply the same mindset for standardized tests. The SAT/ACT is the crucial test that everyone emphasizes and freaks over from the carefree days of ninth grade to the demanding years of twelfth grade. Having those tests suddenly taken away does not bode well for many students. 
Hence, Julia Peldunas, a Connecticut high-school senior, could not have voiced the concerns of these students in a better way: "The SAT is a rite of passage that's been ripped away."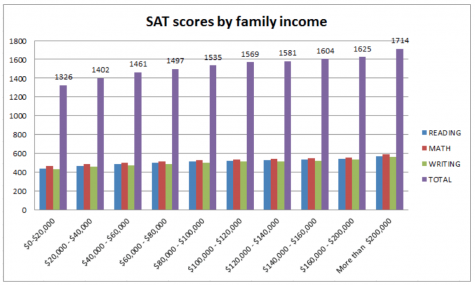 However, USNews critically notes that "while it is true that there is some correlation between test scores and college grades, careful analyses reveal that high school grades are still the best predictors of college success, with test scores adding only marginally to a predictive model that takes into account high school grades". 
In summary, students need to remember that standardized testing does not necessarily measure one's intelligence. In fact, as observed by USNews, scores generally improve with "guidance and repetition", rather than increases in one's intelligence. 
Notably, even before the coronavirus pandemic, the SAT has been gaining widespread popularity overtime. According to USNews, more than 2.2 million students in the class of 2019 took the SAT, which represents a 4% increase in the number of students who took the exam in 2018. 
Both the SAT and ACT exams are typically about a solid $50. However, this already jaw-dropping expense does not factor in other necessities ambitious students bug their parents to purchase, such as review books, tutoring, and even test answer keys. Yet, even though colleges are making it easier this year for parents to save a buck or two, privileged students are still taking advantage of their accessibility to resources that could prove worthy for the exam. Hence, it is reasonable to see why standardized tests have received criticism for favoring higher-income students.
With obvious biases such as English proficiency, how much one can afford various test prep material, and how much one's home circumstances allow them to study for the SAT/ACT (i.e. working part-time because their mom lost a job or being the primary caregiver of an elder), it appears reasonable to conclude that there should be more factors to consider when evaluating a student beside one score.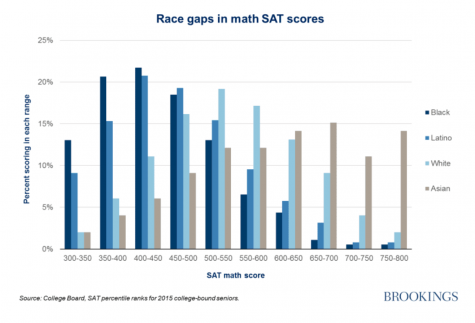 In fact, a 2011 national study reported that "some 60 percent of college applicants have test scores consistent with their academic performance in high school." What's puzzling, however, is that the study also demonstrated that the remaining 40 percent exhibited either high test scores combined with low grades or low test scores along with high grades. Also found by the study, "female applicants along with Black and Latino students are more likely to have higher GPAs and lower test scores.
 Meanwhile, students—especially boys—who come from families that make more than $100,000 a year and whose parents have graduate degrees are more likely to have lower GPAs and higher SAT scores." These statistics clearly exemplify that certain groups in our country, particularly minorities, are more likely to perform worse on the SAT than their peers, questioning the validity of this supposedly "crucial" examination.
Is it fair for the self-esteem of so many worthy students to be ruined by an indisputably evident discriminatory test?
So what can we do? 
Unfortunately, not much. The Stanford Undergraduate Admission page claims that they "practice holistic admission" and that "each piece in an application is part of an integrate and comprehensive whole". To many of us, those are just empty words pasted on a website to encourage students to apply to their school. 
The best we can do is to simply put faith in these colleges' promises.
Unless a colossal number of students started boycotting the SAT and ACT to shut their businesses down, these standardized tests will likely live for a very long time. Therefore, we unfortunately are just going to have to tolerate these ill-conceived exams until we have reached the real world and are dealing with legitimate concerns, not just a pitiful test, as an adult. Even though a college may actually still find these standardized tests significant, we must summon the willpower to reassure ourselves that they are truly not. Unless the SAT/ACT eventually asks us how to change a baby's diaper, wash dishes, or properly fold laundry, it's safe to say that these tests are not a good predictor of our future success. And since they could never predict our future success…
It is irrational if they were the defining factor of our applications. 
Evidence of this statement stems from Emory University admissions officer Lupe Montserro, who openly admitted that he rejected a student with a near-perfect SAT score of 1570. Even though the person's application had "solid activities—band, National Honor Society, tutoring—", to his distaste, the seemingly impressive resume read more as a checklist, "without a sense of deep commitment to anyone in particular." Essentially, the applicant appeared dull. Lifeless. Monochrome. Montserro's rationale demonstrates the importance of every single factor in a student's application.
 Not just a standardized test.
While easily forgettable, we must remember that colleges prefer diversity in their classrooms. Think about it. Would a college hope to fill their classes with unique students each proudly possessing distinguishable qualities, or with a bunch of 1600-scoring kids who participate in random activities with no evidence of true passion and apparent dedication? Thus, unless professors legitimately desire to teach blank canvases every day, it is so important for high schoolers to nurture their distinct hobbies and skills to provide the necessary life colleges seek in applications. Colleges desire to see your spirit radiate from the hours you put into your application. Your college application remains dreary until your passion embodies the essence of your crucial ticket to glory in the hands of eager admissions officers.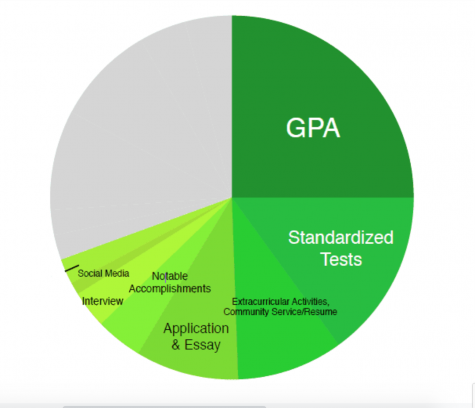 While obtaining that 36 or 1600 is obviously an impressive feat, intelligence is so much more than one silly standardized test score. Looking through my Common Application, I am reminded of a special quality that I am proud to carry like an Olympic gold medal: my passion for music. 
Many struggle with understanding how to read a simple chord, let alone play a melody, yet the interminable amount of music-listed activities faithfully reaffirm my unique and rare passion for music. Even though I do not possess a 1600, I am a member of the most prestigious orchestra of the capital region, evidence of the countless effortful years I exerted into improving my viola playing skills since fourth grade. 
If a college does not find this impressive, then I guess that the college simply is not for me. And that is okay.
No matter what, we are all special.
Whether or not we want to admit that, it is true. If a college does not accept you because of a standardized test score, please do not fall into the trap of spending thousands on a business that profits from students dissociating from their true self to mold into an image that the college wants to see.
If there was one thing that I learned from my numerous college discussions with my friends, it is that while college acceptances may certainly feel exhilarating…
… the most important thing to remember is that colleges should be exhilarated to have the honor of educating you.
Sources
Camera, Lauren. "More Students Are Taking the SAT Than Ever Before." U.S. News & World Report, U.S. News & World Report, www.usnews.com/news/education-news/articles/2019-09-24/more-students-are-taking-the-sat-than-ever-before 
Lewin, Tamar. "Testing, Testing." The New York Times, The New York Times, 2 Aug. 2013, www.nytimes.com/2013/08/04/education/edlife/more-students-are-taking-both-the-act-and-sat.html
Selingo, Jeffrey. "The SAT and the ACT Will Probably Survive the Pandemic-Thanks to Students." The Atlantic, Atlantic Media Company, 16 Sept. 2020, www.theatlantic.com/ideas/archive/2020/09/even-coronavirus-cant-kill-sat-and-act/616360/
UC Office of the President. "University of California Board of Regents Unanimously Approved Changes to Standardized Testing Requirement for Undergraduates." University of California, 25 Sept. 2020, www.universityofcalifornia.edu/press-room/university-california-board-regents-approves-changes-standardized-testing-requirement
Undergraduate Admission at Stanford University. "Our Selection Process." Holistic Admission: Stanford University, admission.stanford.edu/apply/selection/